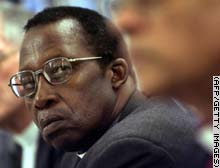 Pius Ncube: "If only Zimbabweans are prepared to stand, so am I prepared to stand ... we are not going to be bullied."
***********************************************************************
(CNN) -- A leading Zimbabwean cleric said on Thursday he was ready to face bullets in the street amid international condemnation of Robert Mugabe's regime and fears of a renewed wave of repression.
Pius Ncube, the Roman Catholic archbishop of the southern Bulawayo diocese, urged Zimbabweans to take to the streets in protest at the government's ongoing crackdown against dissenters opposed to the government, Reuters reported.
"The biggest problem with Zimbabweans is they are cowards, myself included, but as for me I am ready to stand in front, even of blazing guns," Ncube told a news conference.
"If only Zimbabweans are prepared to stand, so am I prepared to stand ... we are not going to be bullied."
Meanwhile Angola denied reports on Thursday claiming it had deployed members of a feared paramilitary police force to Zimbabwe in support of the government.
The UK's Times newspaper reported that around 2,500 Angolans, dubbed "Ninjas" because of their all-black uniform and reputation for brutality, were heading for Harare.
CNN's Jeff Koinange said Angolan state radio had denied the report.
Andrew Meldrum of the UK's Guardian newspaper told CNN that a Zimbabwean police spokesman had said there was "absolutely no truth" in the story.
But Meldrum said suggestions of Angolan involvement reflected rising discontent among Mugabe's own security forces.
"There is a growing sense of disloyalty and unrest within Zimbabwe's security forces," Meldrum told CNN.
"But Mugabe has the police, he has the army, he has the youth militia and he has the secret police so he controls the network of security that is thrown across the whole country.
Demonizing campaign
Zimbabwe's government on Thursday called for the support of other African nations in the face of what it called a "demonizing" campaign by Western governments and media agencies, Reuters reported.
"African countries must not allow themselves to be divided by imperialism," Information Minister Sikhanyiso Ndlovu told senior Army officers at a Harare military school in a speech broadcast by Zimbabwe's state television network.
"The West, and the Western news networks are demonizing Zimbabwe, giving a one-sided perspective."
On Wednesday, the president of neighboring Zambia described Zimbabwe as a "sinking Titanic" as growing numbers of refugees fled the country's economic and political turmoil. Levy Mwanawasa added that the Southern African Development Community "would soon take a stand" on Zimbabwe. (
Full story
)
In an interview with The Associated Press, the U.S. ambassador in Harare, Christopher Dell said that a power struggle to replace Mugabe was under way within the ruling ZANU-PF party, but said the aging president would not quit without a fight.
"Mugabe is a very resourceful fellow. One has to give him certain grudging admiration for his political skills, I mean he's managed to stay in power for 27 years, that's no mean feat," Dell told AP. (
Full story
)
"He is far from giving up. That he has made very evident," Dell added. "He's not prepared to go down without a fight, but he is weaker than he's ever been before, because the economy has simply made him weaker and because everyone recognizes that he's 83 years old."
Dell's comments, made during a scheduled trip to Johannesburg, South Africa, followed the Zimbabwe government's threat to expel Western diplomats openly siding with opposition leaders.
Zimbabwe's foreign minister summoned ambassadors from several countries, including the U.S., that have been critical of the government and "issued a threat to foreign diplomats to remain quiet or face being declared persona non grata," a U.S. State Department spokesman said.
After the minister refused to allow the diplomats to respond, Dell walked out of Monday's meeting in Harare, telling CNN he refused "to serve as a mere stage prop for the foreign minister's press conference."
Brutally beaten
Concerns over Mugabe's government were reignited on March 11 when the leaders of Zimbabwe's main opposition group, Movement for Democratic Change, said they were brutally beaten and detained by Zimbabwe forces for their role in a rally.
Video showed MDC leader Morgan Tsvangirai arriving at a courthouse two days after the incident with a deep gash to his head, and walking with a cane. Tsvangirai and fellow MDC leader Arthur Mutambara said they were trying to hold a peaceful prayer meeting when they were beaten and detained.
Last weekend, several MDC leaders and officials -- some seeking medical treatment for the wounds received in the March 11 incident -- were prevented from leaving the country by Zimbabwe forces.
MDC spokesman Nelson Chamisa was attacked and beaten on Sunday near Harare International Airport, where he was scheduled to depart for a conference in Brussels, Belgium. Tsvangirai told CNN he believed Mugabe's government was behind the attack.
Zimbabwe's state-controlled Herald newspaper said Thursday that a High COurt judge had ruld that two of the officials, Sekai Holland and Grace Kwinje, would be allowed to travel abroad for medical treatement, Reuters reported.
Zimbabwe's government has repeatedly accused the opposition group of using brutal tactics. Machivenyika Mapuranga, Zimbabwe's ambassador to the U.S., accused MDC "thugs" of burning buses and police stations in Zimbabwe, and accused Western diplomats of supporting these actions.
He also blamed Western news media, including the BBC and CNN, of biased reporting against Mugabe's government. (
Video

|
Transcript
)
Zimbabwe's government has repeatedly rejected CNN's request to send a reporter into the country.
Mugabe has been Zimbabwe's only ruler since it achieved independence 27 years ago. Under his rule, the once-prosperous country has suffered an economic crisis, with routine shortages of food, electricity and foreign currency. Inflation is estimated to exceed 1,700 percent.
While there is no official figure, unemployment among Zimbabweans is estimated at 80 percent.
Elections are scheduled for March 2008, and Mugabe has indicated he intends to run again.
Copyright 2007 CNN. All rights reserved.This material may not be published, broadcast, rewritten, or redistributed.
Associated Press
contributed to this report.
---
All New Yahoo! Mail
– Tired of unwanted email come-ons? Let our SpamGuard protect you.